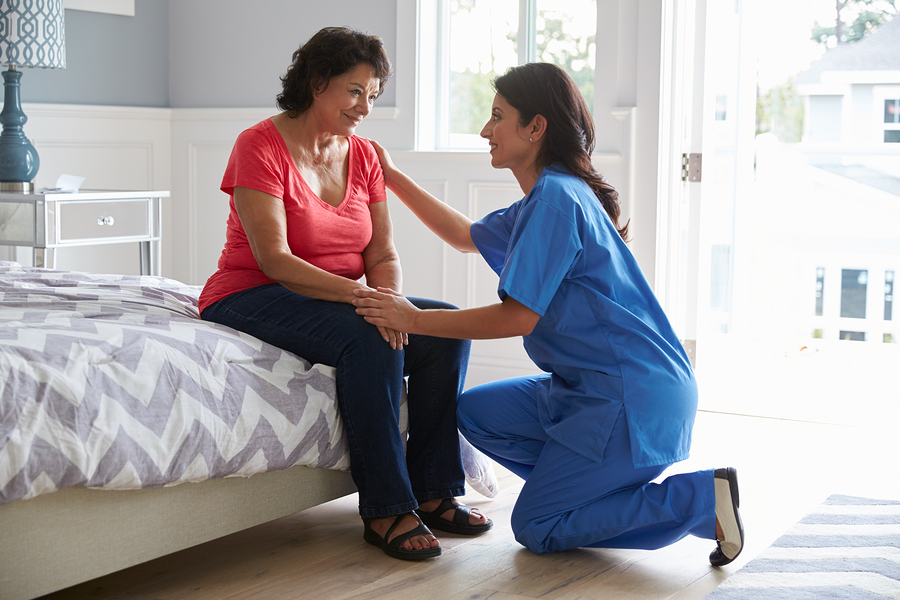 Is 24-Hour Home Care Right for Us?
If your elderly parent or loved one lives alone and you are struggling to keep up with their needs and stressing yourself out, 24-hour home care can be a solution. It can be set up quickly and provides peace of mind and assurance for individuals who are recovering from an illness or injury, or who are experiencing a change in condition that requires someone to be available to provide assistance any time of day.
Additionally, not all 24-hour care situations require permanent support. For instance, if you're caring for a loved one but don't want to leave him or her alone while you go out of town, Easy Living Home Care can provide 24-hour home care to assist with safety needs while living independently.
There are many quality of life benefits for seniors who receive 24-hour home care, including:
Aging in Place – Seniors can feel fulfilled by living in their own homes longer, and couples don't need to be separated for care. They can feel safe in the comforts of home even when they can no longer manage tasks like housekeeping, grocery shopping, transportation, or personal care.
Safety – From chronic health issues to memory loss, some seniors have conditions that put them at risk for falls or other safety concerns. Having a 24-hour care plan in place can assure your loved has the support they need to stay safe at home.
Activities & Entertainment – Many seniors have a difficult time continuing to do the things they love without extra help. A caregiver can help your loved one live a life he or she loves by facilitating activity time and helping with special hobbies and interests.
Reduce Caregiver Burnout – We know you love your aging parent, but you don't have to do this alone. Let our specialized caregivers be your daily eyes and ears to reduce the risk of family or personal stress.
What is a Live-In Caregiver?
A live-in caregiver resides in the client's home and provides consistent 1-on-1 help on a daily basis location, Easy Living Home Care Services can arrange 24-hour live-in care.
What 24-Hour Home Care Services Does Easy Living Home Care Services Provide?
Easy Living Home Care Services of Lake Forest / Irvine specializes in providing 24-hour home care and meeting the specific health and personal needs of our clients. Our specially trained team of care professionals provides around-the-clock assistance with anything from assistance with daily tasks to post-procedure care and exercises to support their return to wellness. A Easy Living Home Care Services RN Director of Nursing will meet with you and your loved one to tailor a care plan to meet your loved one's specific personal and health-related needs.
Our 24-hour home care services support the many facets of everyday life:
Personal Care – Our team assists with all aspects of personal life such as bathing, eating, dressing, and toileting.
Emotional Care – Our compassionate approach aims for caregivers to build a special trust with clients through meaningful activities, mentally-stimulating conversation, and overall companionship.
Household Care – As everyday tasks become more difficult for your loved one, we can assist with cooking, cleaning, laundry, shopping, and more.
Skilled Nursing Care (available in most states) – From medication assistance to home infusions to wound care, our experienced RNs and Licensed Vocational Nurses keep all of our clients' health needs top of mind.
Our Approach to 24-Hour Home Care
Our goal is to provide the highest level of support and care for your loved one and give you and your family greater peace of mind. Whatever your situation may be, a Easy Living Home Care Services Registered Nurse will create a customized care plan, oversee our team of care professionals, and coordinate with your medical providers so everyone is always on the same page in regards to your loved one's needs.
Hourly Care
While many of our clients still enjoy their independence, they might require some assistance with daily tasks. Whatever the needs, our compassionate, attention to detail caregivers can assist. With a 3 hour minimum we can help with:
In-home support
Light housekeeping and helping with laundry
Meal planning and cooking
Respite for family caregivers
Help with shopping and errands
Transportation to and from doctor appointments and social events
Travel companionship
Respite services
Companionship
24 Hour Care
Easy Living Home Cares experienced, skillful, and compassionate caregivers provide safe and professional 24-hour care and are able to assist when your loved one has difficulty with daily functions like sleeping, bathing, eating, and bathroom (toileting) assistance. Additionally, they can provide hands-on personal care, manage the household, and assist with special activities. Based on your loved one's needs.
Continuous 24 hour care can be intimidating and stressful to you and your family. Easy Living Home care is here to help you with the transition. Whether an immediate crisis or a long term care situation, we will develop a care plan tailored to meet your needs. As your situation changes so will the plan of care. Expect 24 hour care – round the clock constant coverage.
Many of our caregivers have been with us since we opened our doors and they have years of experience.  We have many heartfelt letters of gratitude from family members who were overwhelmed and found relief once Easy Living Home Care provided help and care.
When your aging parent begins to need additional support during the day, at night, or around the clock, that doesn't mean he or she needs to leave the home to go to an assisted living facility or nursing home. Easy Living Home Care Services of Lake Forest / Irvine offers 24-hour home care services when your loved one needs either continuous assistance in daily tasks or short-term help while recovering from medical procedures. Situations may vary, and no one client care plan fits all, but one thing is certain: our priority is to provide care and support for your loved one with the highest level of care.
Let's Get Started!
get immediate help with info & pricing