Our Client Gets Back to Sewing
After a long illness our client is back up on her feet and enjoying sewing. Our client was ill for the past 7 months. Easy Living Home Care was there providing home care to help get her back on her feet. She is back to doing activities that she enjoys which is sewing. The photos show her quilting. Our client is proof that with hard work and determination, you can get back on your feet, resume and enjoy the activities you love.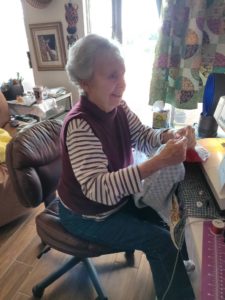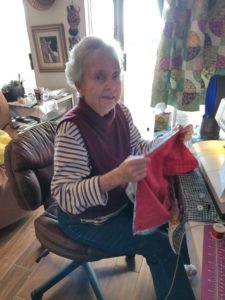 Easy Living Home Care owner and administrator, Lori LaPorte, has over forty years of extensive experience caring for the elderly community. Ms. LaPorte graduated from Western Michigan University with a Bachelors Degree in Special Education, Elementary Education and Health.

At a very young age it was always Ms. LaPorte's passion to work with the elderly. She was a caregiver at a nursing home in high school and college and volunteered in senior centers and senior events held by the city in which she grew up. After graduation, Ms. LaPorte became a special education teacher for sixteen years.

She put her teaching career on the sidelines to raise two wonderful children, during which her passion for the elderly inspired her to start Easy Living Home Care in 2009. Ms. Laporte wanted to help people, especially seniors, find competent, qualified, and caring in-home care at reasonable rates.

Ms LaPorte takes an active role in conducting and managing all operations of her business. She is patient, compassionate and listens. Ms. Laporte is always available to her clients and staff.

In her spare time, Lori volunteers for the American Red Cross and Leashes of Love canine rescue organization.
Latest posts by Lori LaPorte (see all)